Summertime Grilling with the Beyond Burger
Thank you Beyond Meat for sponsoring this post. Try The Beyond Burger today! The Future of Protein. Made from Plants.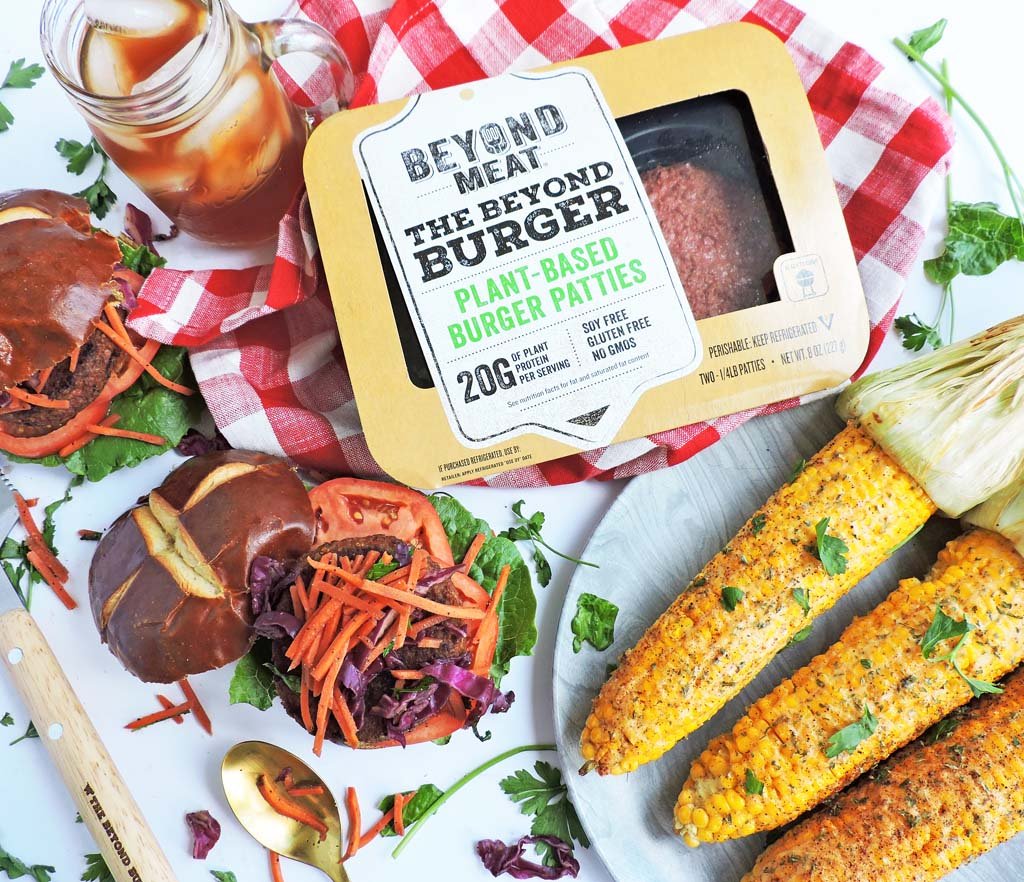 Click the tag in the above image to download a coupon valid for $1 off The Beyond Burger, at retailers nationwide!
I don't know about you, but summertime equals backyard cookouts in my book! It doesn't have to be a fancy cookout, just something that lets me enjoy spending time with my family and enjoying some amazing food!

If you remember a few weeks ago, I tried the Beyond Burger for the first time and loved every bite! My husband was a huge fan too! We loved them so much that we decided to have a plant-based cookout! Yeah, it sounds a little impossible, right?! Lol! Beyond Meat makes it possible to enjoy those same classic cookout foods but with plant-based options, such as the Beyond Burger! Each patty is free of soy, gluten, and GMOs and contains 20 grams of plant protein!

Our Beyond Burgers cooked perfectly in our skillet so we were very eager to test them out on the grill!
Our menu included:
Beyond Burgers
Marinated Asian Infused Slaw
Lightened-Up Mexican Street Corn
Sweet Tea
I let the hubs prepare the grill while I prepared everything else. I always put my husband in charge of firing up our charcoal grill because I seriously suck at it! Lol! I've tried several times to make a good fire, but have failed miserably! It's completely fine with me because I enjoy prepping the food so much more!

Once the grill was good to go, we put the food on there and let it cook! I was really impressed by the Beyond Burgers! Because of the very high cooking temperature, I was a little skeptical about how these plant-based patties would hold up…To my surprise, they held up perfectly! The patties held their shape and had such a wonderful smoky, grilled flavor! The texture was not dry or mushy at all! It was juicy, and had a very nice bounce and mouthfeel!

I topped the patties with my Marinated Asian Infused Slaw, which was possibly the best combination ever! The Marinated Asian Infused Slaw was very easy to make! I just added shredded carrots, shredded red cabbage, teriyaki sauce, apple cider vinegar, and a little sesame oil to a bowl and let it sit for about 15 minutes. I added a little salt and pepper to taste and it was ready to serve!

Now whenever I think about having a cookout, I will be able to include delicious plant-based options! Don't forget to download a coupon valid for $1 off The Beyond Burger, at retailers nationwide! Just click HERE!
I was selected for this opportunity as a member of CLEVER and the content and opinions expressed here are all my own.