Savory Carrot and Spud Souffle
Thank you Idaho Spuds for sponsoring this post. VeggieMash mashed potatoes are a blend of 100% Idaho® grown potatoes and real vegetables for a new take on a family favorite!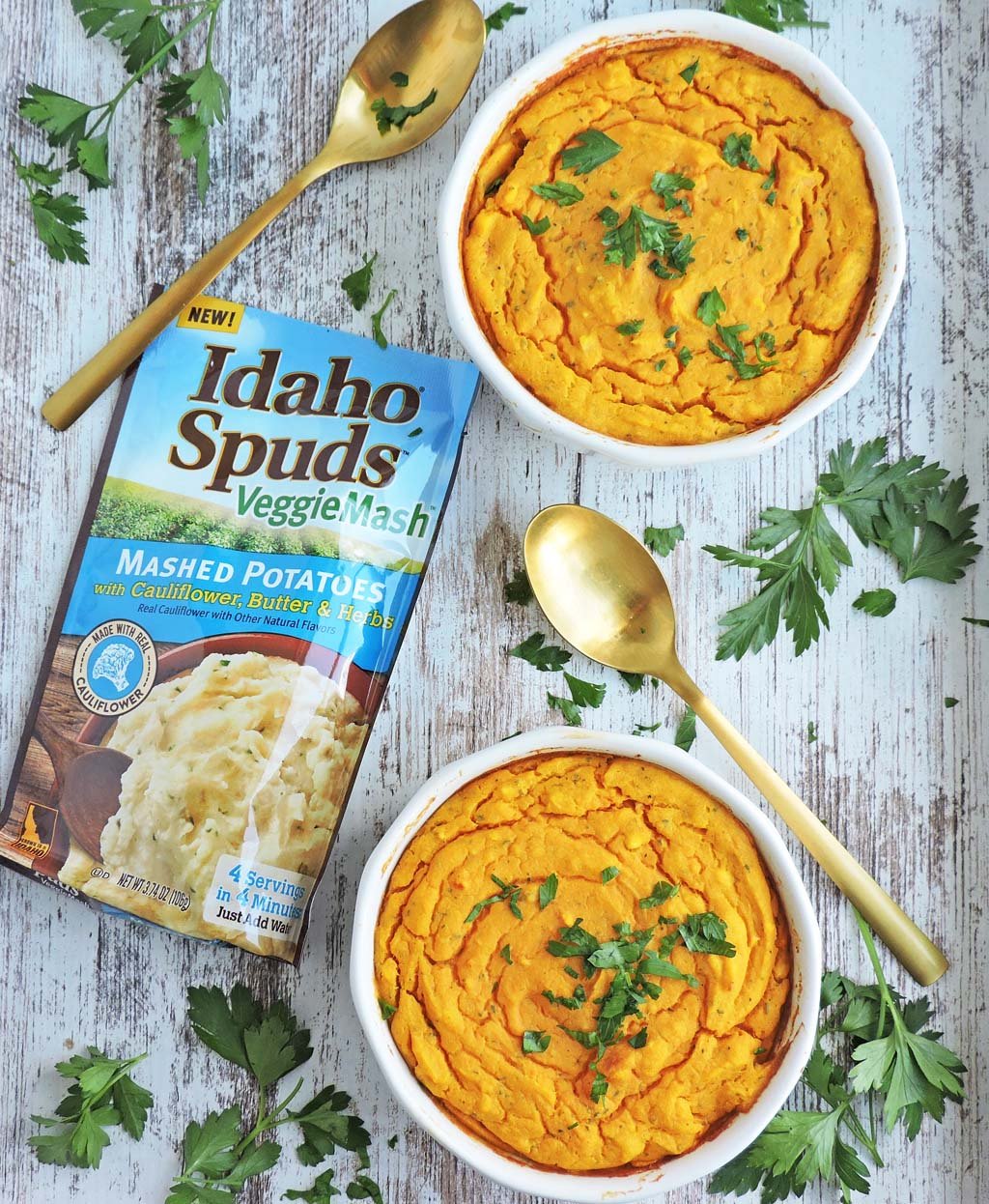 Click on the tags in the above image to shop directly!
I don't know about you but getting my kids to eat vegetables is like pulling teeth! Any time they see something green or "weird" they immediately refuse it and ask for something else…or in most cases, they use it as floor decorations! Lol! The struggle is real, y'all, but I've learned a few tips and tricks to get my kids to eat their veggies without even knowing it!
As a Registered Dietitian Nutritionist, most people automatically assume that my kids eat a perfectly healthy diet, loaded with fruits and veggies, but that is so far from the truth! They are regular kids! They love all kinds of food including chips, cookies, cake, etc…lol! There's nothing wrong with letting them have a few of those indulgences just as long as we teach moderation!
Don't get me wrong, my kids enjoy veggies, but only a select few! I've learned to keep offering a variety of veggies and to prepare them in familiar ways, like in this Savory Carrot and Spud Souffle! This Savory Carrot and Spud Souffle included familiar flavors such as cheese, garlic, potatoes, and the new Idaho Spuds VeggieMash!
In this recipe, I used the Cauliflower, Butter, & Herbs VeggieMash flavor. It paired well with the carrots and other tasty ingredients! My kids are potato lovers, but not necessarily cauliflower lovers so I was a little worried they wouldn't like it! Boy, was I wrong! The whole family enjoyed so much that I ended up making another batch! Providing my family with healthy choices has never been so easy!
The new Idaho Spuds VeggieMash was a big hit in our house maybe because it's actually made using real vegetables! I can't wait to try the other flavors! To learn more about the new Idaho Spuds VeggieMash flavors, click HERE!
Savory Carrot and Spud Souffle
Ingredients
1

package Idaho Spuds VeggieMash

Cauliflower, Butter, & Herbs

1

cup

pureed carrots

2

cloves

garlic

minced

¼

cup

onion

finely chopped

2

tbsp

butter

¼

cup

shredded cheddar cheese

½

cup

low-fat milk

2

eggs

½

cup

flour

1

tsp

baking powder

Salt and pepper to taste
Instructions
Preheat oven to 350 degrees. Grease a casserole dish and set aside

Prepare Idaho Spuds VeggieMash (Cauliflower, Butter, & Herbs) according to package instructions. When done, put into a large bowl.

Add carrots, garlic, onion, butter, milk, flour, and baking powder to bowl and combine. Season with salt/pepper to taste.

Slowly stir in eggs and pour into casserole dish. Bake for approximately 45 minutes or until center and top is firm.

Enjoy!
Notes
Nutritional Information (1 serving-1/2 cup): Calories 118, Carbohydrate 15g, Fat 4g, Protein 5g, Saturated Fat 1g, Fiber 1g, Sugars 2g
I was selected for this opportunity as a member of CLEVER and the content and opinions expressed here are all my own.