My Top 3 Things That I Must Have Every Morning
This shop has been compensated by Collective Bias, Inc. and its advertiser. All opinions are mine alone. #NatureMadeHeartHealth #CollectiveBias
Have you ever had your grocery list perfectly planned out, but when you get to the grocery store, they are out of your FAVORITE item! Ahhh!! Yes, that was my reaction when I went into Walmart the other day! My top 3 "must-haves" are coffee, lemons, and my Nature Made® Fish Oil…they had my coffee and lemons, but I didn't see my usual bottle of fish oil! I kept searching and finally realized that the packaging had changed!
My premature panic attack was completely unnecessary (and a little comical) after I realized that Nature Made® Omegas at Walmart changed the feature of the packaging from Fish Oil to EPA/DHA omega-3 fatty acids! Omega-3 fatty acids, such as EPA and DHA, are derived from fish oil and they provide some really awesome health benefits such as providing support for a healthy heart†​…so now you see that it's actually the EPA& DHA Omega-3s from fish oil that matter!
As a Registered Dietitian Nutritionist, I spend a lot of my time discussing the benefits of EPA & DHA, and encouraging it as a part of a healthy daily diet, so I was thrilled about the feature on the new packaging! I often recommend Nature Made® to my clients because they are the #1 Pharmacist recommended vitamin and supplement brand*. They offer a variety of "Burpless" Omega-3 items that are specially coated, with no added colors or artificial flavors, to help prevent a fishy odor and aftertaste. I often recommend Nature Made to my clients because they are the #1 Pharmacist recommended vitamin and supplement brand*
Now at Walmart, you can find a selection of these Nature Made® Omega-3 supplements (which are completely gluten free, by the way) that clearly call out the amount of EPA & DHA Omega-3s on the front of the label. Walmart is trying to make it easier for shoppers to navigate the "fish oil" segment and to ensure their shoppers (like you and me) are confident they found the right omega-3 supplement!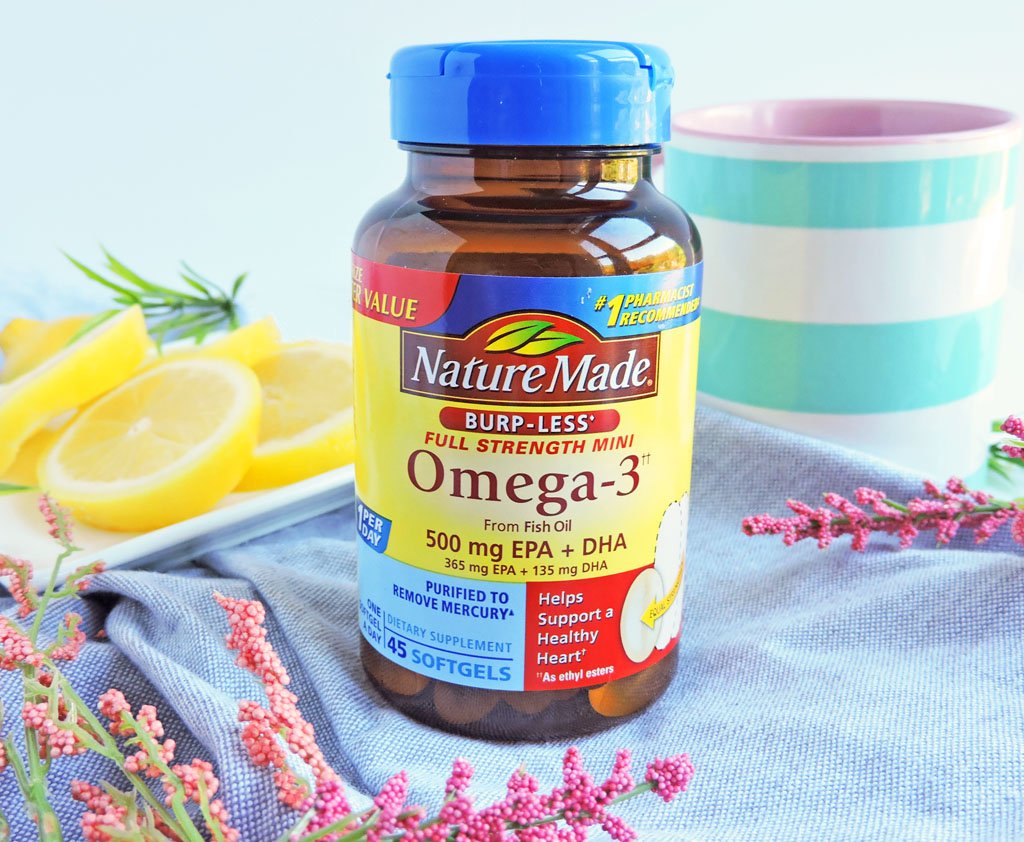 Click the image above to shop now!
As I headed to the checkout with my lemons, coffee, and Nature Made® Omega-3s in hand, I could finally breathe a sigh of relief because I was able to get everything on my grocery list! I know what you're thinking….what's obsession with the coffee and lemons?? Lol! Coffee is just a natural part of waking up in my book! Lol! I must have coffee before I can truly form a complete sentence!
As far as the lemons…no I'm not making lemon tarts, lol! I love adding fresh lemons to my water and drinking a full 8 oz glass of lemon water every morning. It makes me feel so refreshed and rejuvenated! These items, along with my Nature Made® Omega 3s, are neatly packed in my tote bag as I am headed out of the door in the morning! So there you have it, My Top 3 Things That I Must Have Every Morning! To learn more about your Heart Health and Omega-3s at Walmart, text OMEGA3 to 555888 and watch a quick video from Nature Made!

*Based on a survey of pharmacists who recommend branded vitamins and supplements.
† These statements have not been evaluated by the Food and Drug Administration. These products are not intended to diagnose, treat, cure or prevent any disease.